Who was he?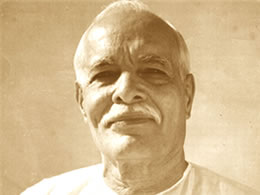 Brahma Baba, born into a humble home as Lekhraj Kripalani in the 1880s, was the son of a village schoolmaster. Lekhraj was brought up within the disciplines of the Hindu tradition. After different jobs, he entered the jewellery business, later earning a considerable fortune as a diamond trader. He was the father of five children and a leader within his local community, known especially for his philanthropy. In 1936, around the time when most people at his age start to plan their retirement, he actually entered into the most active and fascinating phase of his life. After a series of deep spiritual experiences and visions, he felt an extremely strong pull to give up his business and dedicate his time, energy and wealth to laying the foundations of what later would become the Brahma Kumaris World Spiritual University.
Between 1937 and 1938, he formed a Managing Committee of eight young women and surrendered all his property and assets to a Trust administered by them.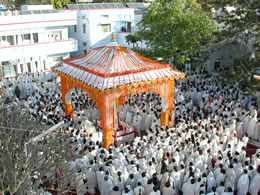 After guiding the creation of many Brahma Kumaris centres throughout India, he passed on in January 1969. The Tower of Peace on the Madhuban campus is a tribute to the invincible spirit of this ordinary human being who achieved greatness by rising to the challenge of the deeper truths of life.
Brahma Baba's legacy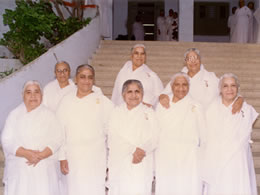 Many years have passed since Brahma Baba's series of visions in 1936. The lifestyle revolution he began has inspired millions to empower themselves and create hope for the future. The life skills that Brahma Baba taught have stood the test of time. The young women that he put to the forefront, now in their eighties and nineties, have become beacons of love, peace and wisdom.