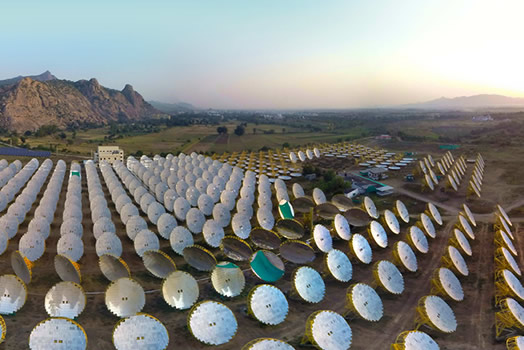 In spring 2017 the Brahma Kumaris and WRST completed the design, development and installation of "India One", a 1 MW solar thermal power plant in Abu Road, Rajasthan. This research project uses the in-house developed 60 m² parabolic dish and features an innovative thermal storage for night operation. The 60 m² dish is a new development based upon 20 years of experience with parabolic concentrators. "India One" will generate heat and power for a campus of 25,000 people.
Key features of "India One":
770 nos. of 60 m² parabolic dishes & 1 MW peak electrical output
Co-generation, efficient use of thermal energy & modular design
Thermal storage for night operation & direct steam generation
Networked enabled automated dual axis tracking and controls
Motionless cavity receiver & efficient use of land
Project Partners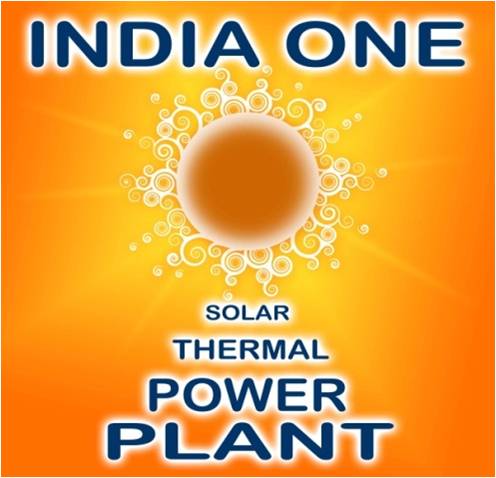 For "India One", Brahma Kumaris & WRST have secured funds from:
The Ministry of New and Renewable Energy (MNRE, Govt. of India) under its research & development scheme.
The German Federal Ministry for the Environment, Nature Conservation, Building and Nuclear Safety (BMUB) via its bilateral "ComSolar" initiative through GIZ (German Federal Enterprise for International Cooperation) to demonstrate and promote this technology.
Team and Consultancy
Brahma Kumaris & WRST have created a local team of engineers and experts to execute the project smoothly. A dedicated staff of more than 40 people is coordinating the activities on site. The team is in close liaison with various Indian R&D institutes and manufacturers.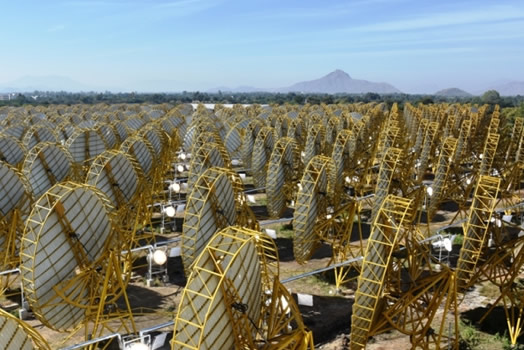 In addition, the project enjoys the support and consultancy of:
The Fraunhofer Institute (ISE) of Freiburg, Germany which will simulate the plant, design the monitoring system and evaluate the performance.
IndiaCare of Berlin, a long standing partner of WRST in renewable energy projects, supports the project as well as coordinates activities with German R&D institutes and companies.